Proceedings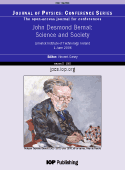 Journal of Physics: Conference Series (JPCS)
IOP
The proceedings will appear in the Open Access Journal of Physics: Conference Series (JPCS) which is part of IOP Conference Series. All papers published in IOP Conference Series are fully citable and upon publication will be free to download. Authors may be interested to know that IOP Conference Series now receives in excess of 2.3 million article downloads per year, and is abstracted and indexed in Scopus, Compendex and Inspec, among others. Citations are tracked online using IOP Publishing's citing articles facility in addition to the full citation tracking facilities provided by Scopus.
Instructions for manuscript preparation
Articles submitted for the Conference Proceedings must be according to the given template. Both source file (compressed in zip file format) and camera ready file (in pdf format) must be submitted. The submission is performed at the on-line submission system.
Paper templates
Conference related documents